PG Medical Management Quota Admission
PG Medical Management Quota Admission. PG Medical MD MS Admission 2023 Important Dates:- ACE GURU EDUCATION SERVICES- Call Now- 9742479101 Ankit Mishra, 9742886036 Anis. or email us- [email protected]– visit Websites- mbbs-guru.com
| PG medical 2023 | Dates |
| --- | --- |
| Release of Neet PG 2023 Form | January 7, 2023 |
| NEET PG 2023 registration date | January 7, 3 P.M Onwards |
| Last date to fill NEET PG form 2023 | March 2, 2023 |
| Correction window of NEET PG application form | January 30 to February 3, 2023 |
| Final correction window to correct images | February 14 to 17, 2023 |
| Availability of NEET PG mock test 2023 | February 20, 2023 |
| Releasing of NEET PG 2023 admit card | February 27, 2023 |
| NEET PG 2023 exam date | March 5, 2023 |
| NEET PG 2023 result date | March 31, 2023 |
| Release of Rank Card | Stay Tuned |
| Release of Merit List for AIQ 50% seats | stay tuned |
| Counselling dates | stay tuned |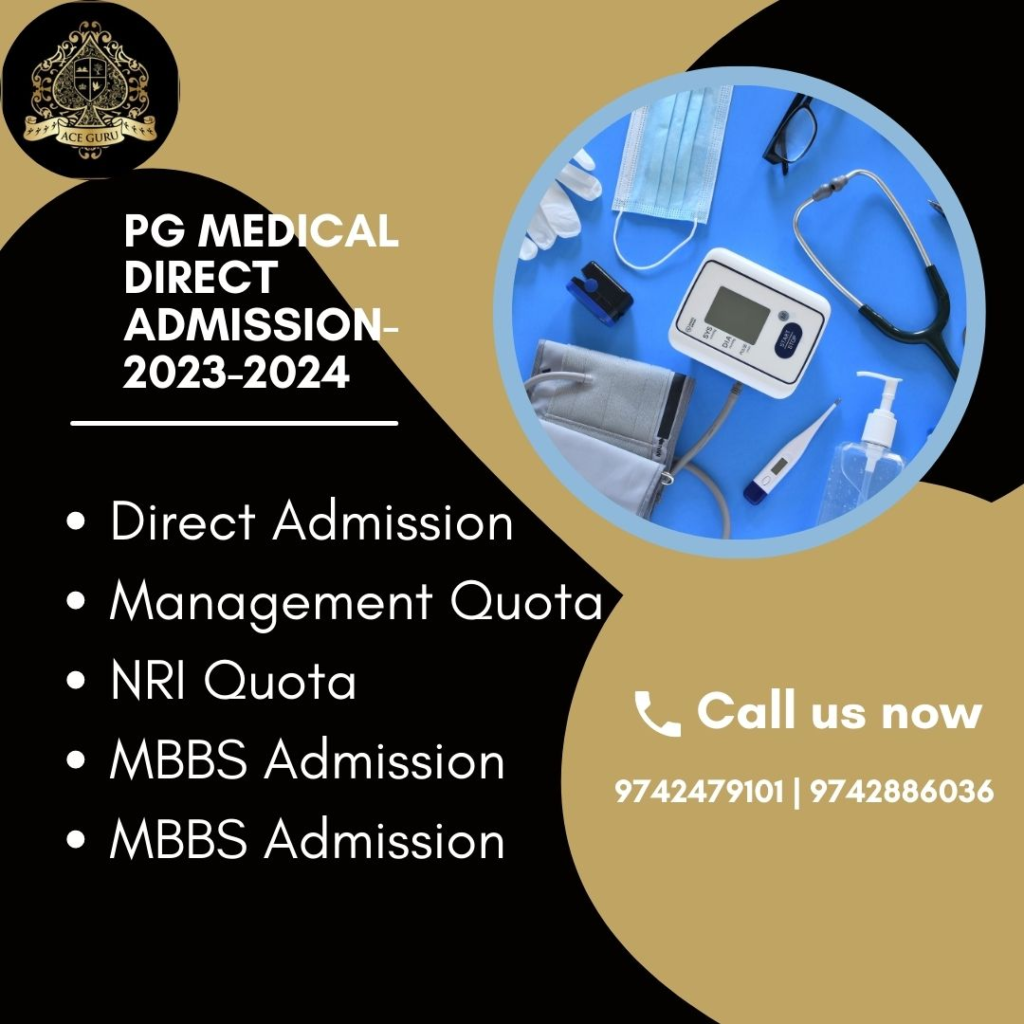 Admission 2023 in MD MS Through Management Quota Seats
Well, now a lot of current scenarios are changing day by day. Earlier MD ms admission through management quota was too much much easier. The vacant MD ms seats or Pg medical seats earlier were filled by the private board of members-only of the medical colleges. Now NEET Pg is compulsory for even the process of direct MD ms admission. MD MS Admission through management quota is only valid for the doctors who are eligible in neet. Direct Admission for MD MS
The process for direct admission in MD ms starts in the last round which is called the mop-up round. The first three rounds are for general people who are good scorers in neet PG. The last round of neet pg counseling is called the mop-up round. The fees for MD ms admission in management quota is higher compared to the fees for students who acquire seats through general counseling. MD MS Admission Through Management Quota
we are experts for the neet pg admission that is MD ms admission. With our 20 years of experience in medical counseling and admission. We can provide you with exact knowledge and guidance for MD ms admission through management quota. Direct Admission in Medical College
Dear students greetings from us. We are here to help you to secure seats in private medical colleges across the country. We are providing MD MS Admission through Management Quota 2023. For MD MS Admission through Management Quota Call. We are an eminent, honest, and trusted educational consultancy in India, serving you all since 2006. we welcome your all relevant queries regarding your seat intake in MBBS MD MS BDS MDS.
Get direct admission to the college,100% confirmed seats, and transparency. No more seat booking amount or advance payment, Direct payment to college administrators, we are specialized in MD ms admission through management quota. Get your seats easily for MD ms admission 2023. We are always here to guide you with your regular budgets and help you all in taking determined decisions for choosing the best colleges. Please feel free to register yourself and ask doubts related to your career. Wishing you all a very bright future. Direct Admission in MD MS 2023
Also Read:
What are the NEET eligibility criteria for MD MS Admission through management quota?
What is the National Eligibility-cum-Entrance Test for Postgraduates?
NEET-PG is an eligibility-cum-ranking examination prescribed as the single entrance examination to various MD/MS and PG Diploma Courses as per Section (10) of the Indian Medical Council Act, 1956. No other entrance examination, either at state or institution level, shall be valid for entry to MD/MS/PG Diploma Courses w.e.f. Admission Session – 2023. For further information regarding pg medical admission 2023 visit our other website Management Quota Admission in Top MBBS College
Management quota is concerned for PG medical admission through management quota. The conclusion is that for entering any private medical college in India. One has to score at least 50 percentile of the highest obtained marks. Management Quota Seats in MD MS
1. for general the eligibility criteria is 50 percentile.
2. For sc/st the eligibility criteria is the 40 percentile.
3. for OBC the eligibility criteria is the 45 percentile.
Apart from these eligibility criteria one has to Candidate in possession of an MBBS degree/Provisional MBBS Pass Certificate from a Medical College/Institute duly recognized as per the provisions of the Indian Medical Council Act, possessing either a permanent or provisional registration certificate of MBBS or equivalent qualification issued by the Medical Council of India / State Medical Council and have completed one year of internship or are likely to complete the same on or before 31st March 2023 may apply for NEET-PG.
Is NEET-PG 2023 a mandatory test?
Yes, the NEET-PG is a mandatory test for gaining admission to any Postgraduate Medical Course with effective in the 2023 admission sessions. for more inquiries regarding MD MS Admission through management, quota visit our blog on NEET FAQS " CRITERIA FOR MD MS ADMISSION THROUGH MANAGEMENT QUOTA" Is It Wise to Spend Crores to Get Direct Admission PG Medical Seat?
PG Medical Admission 2023
These courses hold the post-graduation degree after MBBS or BDS. We provide the most honest level of awareness for postgraduate medical courses in India and Nepal, all aspirant doctors are at the right place to get their confirmed seats through management or NRI quota in the best and most reputed private medical colleges across the country at the most suitable budgets. MD MS Direct Admission under NRI Management Quota
Also read, our New article on MD MS Admission through management quota without Neet
Let me explain to you the process of MD ms admission through management quota. PG Medical Direct Admission
For admission through management quota even in MD ms, The candidate must be neet eligible.
Every year the neet eligibility marks vary.
But the percentile must be 50.
The percentage and percentile vary. The percentile is calculated on the basis of the highest marks scored and lowest marks scored in the NEET PG exam.
every year 3 round of counseling happens. There is a mop-up round for MD ms admission through management quota.
Only in the mop-up round seat can be awarded to any NEET Eligible candidates, Depending on their preferred branch. MD MS by Management Quota Admission
Now let us have some important updates For PG Medical admission 2023.
While the time of admission following things are required:-
The following certificates in original and Tuition Fee as DD or Online to be submitted at the time of admission. 1. Provisional Allotment Letter generated through ONLINE ( DGHS )
2. NEET (PG) 2013 Scorecard
3. NEET (PG) 2013 Admit Card
4. Class 10th/ 12th Mark Sheet as proof of Date of Birth
5. MBBS Mark Sheet
6. Attempts Certificate
7. Course Completion/Conduct Certificate
8. CRRI Completion Certificate
9. Provisional /Degree Certificate
10. State Medical Council Registration
11. Transfer Certificate
12. Community Certificate (if OBC/SC/ST)
13. Migration Certificate
14. Recognition of college by MCI PAN Card & Aadhar Card – Original for verification and return and Photocopy Passport size latest Photograph of the Candidate (10 Nos) Candidates to bring DD for the appropriate amount, as specified for admission. Payment can be made online also.
Yet it's very hard to decide the perfect branch to intake admission, We are to help you with our last 10 years of expertise and experience to get you all 100% secure seats in some most reputed colleges across the country. Top 10 PG Medical College in India Direct Admission
Postgraduate admissions are some of the toughest admission procedures for particular people or families. We are here to help in making these procedures easy and reliable with our honest and transparent methodology. We don't have any backdoor entry or any hidden charges. Top 20 Medical College Direct Admission
For us, it's not about the service charge, make e are totally dedicated to our clients and believe in making them satisfied with us. so if you are looking for MD ms admission in 2025 then, you are at the very right place for MD ms admission in 2023. MD MS Admission Through Management Quota
Remember, we make choices and never look back. Get 100% guaranteed pg medical seats and 100% confirmed sets for MD ms admission in 2023. Get confirmed a direct medical seat in MD MS admission through management quota.
Best wishes; from ACE GURU EDUCATION SERVICES
9742479101
ACE GURU EDUCATION SERVICES- Call Now- 9742479101 Ankit Mishra, 9742886036 Anis. or email us- [email protected]– visit Websites- mbbs-guru.com